Act Above — Respect Others
What does it mean to be a part of the #AOFamily?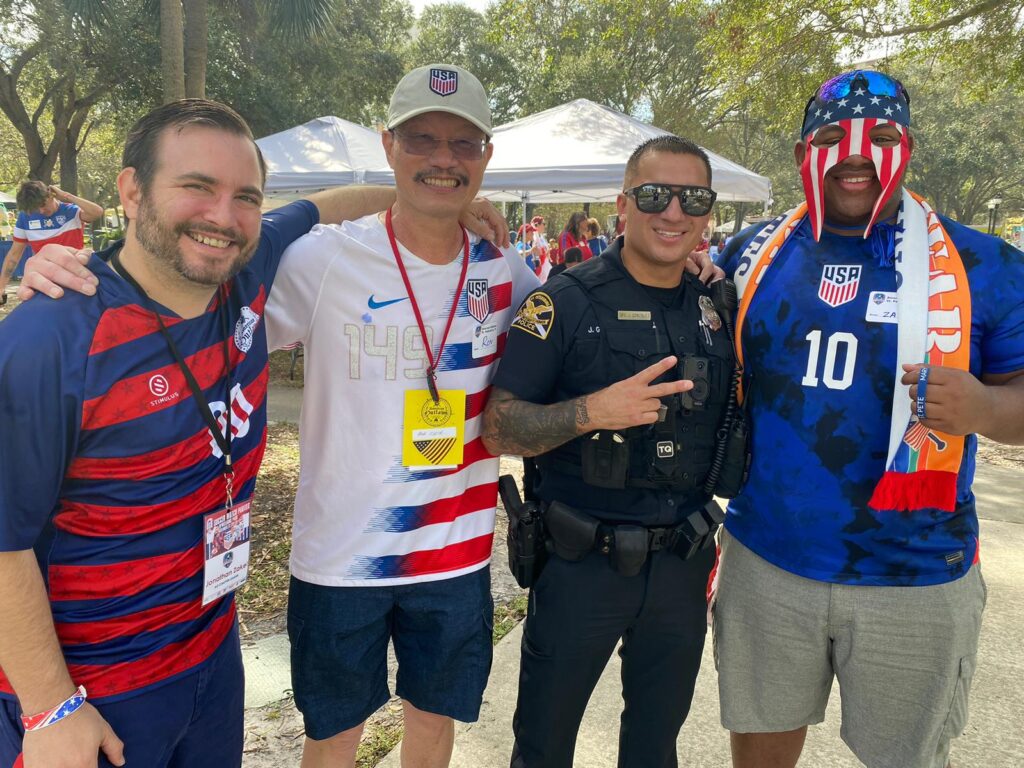 It means that you're a part of some of the loudest, most passionate fans of our United States national soccer teams. It means that you are a member of a group committed to "unite and strengthen" support for soccer in this country.
Part of that is a commitment to having an inclusive and welcoming community that, at its core, is grounded in respect for people and their humanity.
Discrimination on account of race, gender, sexuality, religion, disability or any other targeted group is not permitted. The American Outlaws will not tolerate any sort of hatred or attacks on other people for who they are, whether in the form of physical or verbal assault, clothing or signage.
It is of the utmost importance that people can cheer, sing and exist as they are in our section, around the stadium, in chapter bars and anywhere in the world with comfort and free of threat.
---
In addition to creating an inclusive community and section, the American Outlaws also have rules that help create a safe environment for all fans and players.
The following is not allowed:
Use of flares, smoke bombs, or other incendiary devices in stadium
Throwing any objects onto the field of play during a match
Leading, participating in, and/or encouraging inappropriate chants
Physical harm or threats of physical harm to others
Disrespectful and/or hateful speech online and offline
It is up to all of us to make sure that we are creating the best community possible for our members, all fans, the teams and the sport. That means acting appropriately ourselves and making sure others do the same. If you see individuals acting in a way that violates our code of conduct, please act to stop it. That can include speaking to the person(s), contacting AO Watch (details on how to do so below), alerting security and/or local authorities.
Please help us create and maintain the inclusive and supportive community that is at the core of the American Outlaws' mission to unite and strengthen.
---
Any member of American Outlaws who does not follow our Code of Conduct is subject to removal from the organization pending an investigation.
We reserve the right to revoke anyone's membership for their actions at American Outlaws events (whether national or local), U.S. Soccer games, and/or online that violates the letter or spirit of our Code of Conduct.
Additionally you will lose all the privileges of being a member of the American Outlaws. We have the full support of the United States Soccer Federation to revoke all future ticket purchases to matches in any other part of the stadium as well.
---
If you believe a member of American Outlaws or someone attending an AO event is not following our "Act Above" Code of Conduct there are several ways to report an incident:
Please find an AO National member, AO chapter leader or AO Watch leader at AO events.
Contact us through our AO Watch number (475-2CALLAO… 475-222-5526) for on-site assistance.
Complete our "AO Watch" form so we can investigate and address any situation.
We can also be reached via email at:

[email protected]

.
Note: If you believe a crime is occurring or has occurred please report it to the proper local authorities immediately.
Ticket scalping policy
Any member attempting to resell a ticket for more than face value is subject to having their membership revoked, and may face a possible lifetime ban from membership. You will no longer be able to purchase future AO tickets and AO will also forward your name to U.S. Soccer for them to decide whether to remove you from their future buyers' list as well.
All tickets purchased in the AO section from this site or from US Soccer shall be resold at face value—no more, but less if you choose (and gifting is a wonderful choice). TICKETS IN THE AO SECTION MAY NOT BE SOLD FOR ADDITIONAL MARK-UP BEYOND THEIR FACE VALUE, SOLD FOR PRIVATE PROFIT, OR UTILIZED TO PROMOTE OR RAISE FUNDS FOR ANY OTHER COMPANY OR PROJECT. As a member, I understand that if I attempt to sell an AO ticket for above face value, purchase a ticket with the intention of reselling it above face value, AO has the absolute right, in its sole discretion, to revoke my membership in AO.
Scalping is simply not part of our community, and we will do everything in our power to block it from taking place.